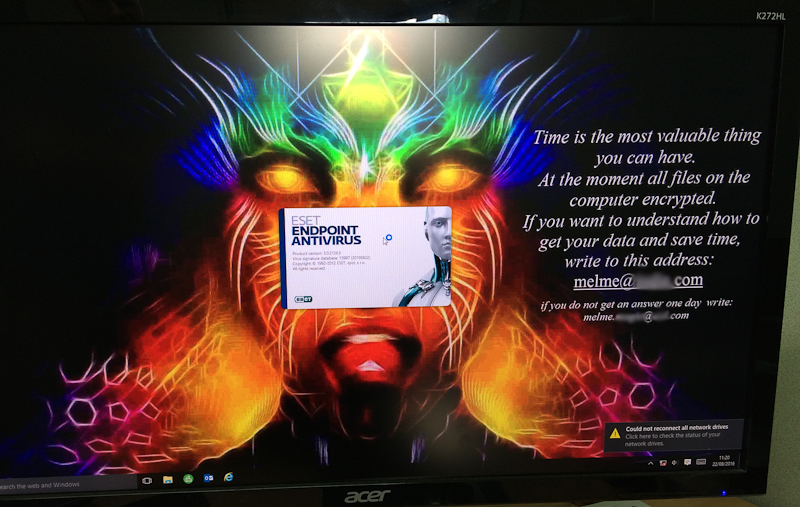 Ransomware is a type of virus that encrypts all the files on your computer or network.  When it's completed, a ransom note will pop up on your screen with instructions on how to pay the ransom to unlock your files.
Ransomware can get on your computer in a number of ways, most of which may seem obvious (opening email attachments, or clicking email links, from unknown senders).  However, hackers are becoming more and more sophisticated and authentic-looking.
'Spear-phishing' emails are those that appear to be sent from somebody you know.  Now, in most cases you can't get a virus just by opening an email, only if you click on a link in an email, or open an attachment.  But if the email seems like it's from a known contact, the chances of somebody clicking a link or opening an attachment are higher.
How to protect yourself from ransomware
It's absolutely important to be vigilant at all times, and cautious of anything even remotely suspicious-looking.  But at the end of the day we're all human, and we all make mistakes.
The only guaranteed way to protect your devices from ransomware is by installing anti-ransomware software, which works by monitoring activity on your PCs.
So if it sees something that's trying to encrypt your files, it recognises what's going on and stops it in its tracks.  It will then roll back any files that have been altered to their original state.
We've dealt with several incidents of ransomware in the last year, from people who weren't properly protected.  Some lost their data, some we were able to restore their data from back-ups, and some had no choice but to pay the ransom. Even then, they cannot be sure that they have retrieved all of their data and won't be vulnerable to the hackers demanding more money in the future.
If you don't currently have anti-ransomware installed, please consider the consequences of being locked out of your computer or laptop and potentially losing all your files.
Contact Gardner I.T. today to protect your business from hackers.